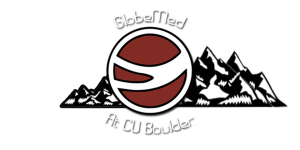 All About GlobeMed CU
GlobeMed at CU Boulder refuses to live in a world where people lack basic human rights. By engaging in pragmatic solidarity with our partner, Himalayan HealthCare, we are making a tangible impact on the lives of the most impoverished in rural regions of Nepal.

GlobeMed is a network of university students that partner with grassroots organizations around the globe aimed at improving the health and well-being of the impoverished. Comprised of 46 chapters, GlobeMed has created a movement committed to social justice and global health.


Here at CU Boulder, we are partnered with Himalayan HealthCare (HHC) in Nepal. By spreading awareness, raising funds and educating ourselves and our community, GlobeMed at CU Boulder is able to provide HHC monetary and organizational support to many of their on-going projects. Since the start of our partnership, we have raised over $40,000 for HHC to support their women's empowerment, income generation, nutrition and sanitation projects. Through this progressive partnership, symbiotic support and solidarity GlobeMed at CU Boulder has been able to aid HHC in changing thousands of lives in rural and urban Nepal.


To this day, GlobeMed at CU Boulder is dedicated to make an impact not only in Nepal, but across the world.

---