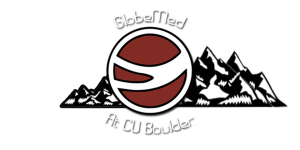 Intern Spotlight: Ellie Falletta
1. Would you rather eat a handful of hair or lick three public telephones?
Eww…but I guess three public telephones…that's a lot of hair! 
2. What's your favorite quote?
"What keeps you going isn't some fine destination but just the road you're on, and the fact that you know how to drive."
-Barbara Kingsolver
3. If you were stranded on an island with only one food item, what would it be?
Jelly Beans
4. What are some fun hobbies you like to do in your spare time?
In my spare time I love just hanging out with friends going on adventures and doing silly stuff! I also love to snowboard in the winter and playing almost any sport.    
5. What is your major here at CU and why did you choose that area of focus?
I am studying Molecular, Cellular and Developmental Biology and Geography.  I came into CU thinking that I wanted to go to medical school but the more classes I took the more my interests shifted, which is why I added a Geography major.  Though it may seem like an odd combination to some people, I think that it is the perfect mix of the physical and social sciences since I am interested in public health.
6. What is your position in GlobeMed?
Currently I am one of two Campaign Coordinators (McLetta-aka the shit!) so, I am responsible for overseeing all of our monetary campaigns, which have been doing amazing, raising over $30,000 for Himalayan HealthCare this year!  Next year I will be our Director of Finances.
7. What makes you so passionate about GlobeMed?
I love GlobeMed because it empowers students to make changes in the world, when as students it sometimes feels like we have little say or impact.  I really identify with GlobeMed and Himalayan HealthCare's mission of creating sustainable change and enabling people to help themselves.  All of the amazing people that I have meet through GlobeMed continue to inspire me everyday and have motivated and given me direction throughout my college career.      
8. What are you most excited about for this summer's GROW internship?
I cannot wait to experience the people and culture of Nepal!  I am sure this trip will be unlike anything I have ever done before, pushing me out of my comfort zone.  Getting to spend that time with such an amazing group of people and working alongside our partner will be an incredible experience.  
9. Tell us one secret about yourself.
I'm pretty short, I bet you would have never guessed!
---